The reverse job board for Elixir developers
ElixirDevs empowers developers looking for their next job.
Stop looking for job offers and sit back as companies look for you.
HIRE FASTER
What is ElixirDevs?
The job search process is slow and laborious. Here's what makes ElixirDevs different to other platforms:
We are focused on Elixir developers.

Developers can indicate if they are actively looking for their next gig or if they just want to hear about new opportunities.

Companies can easily contact developers that are actively looking for a new job or that are open to interesting opportunities.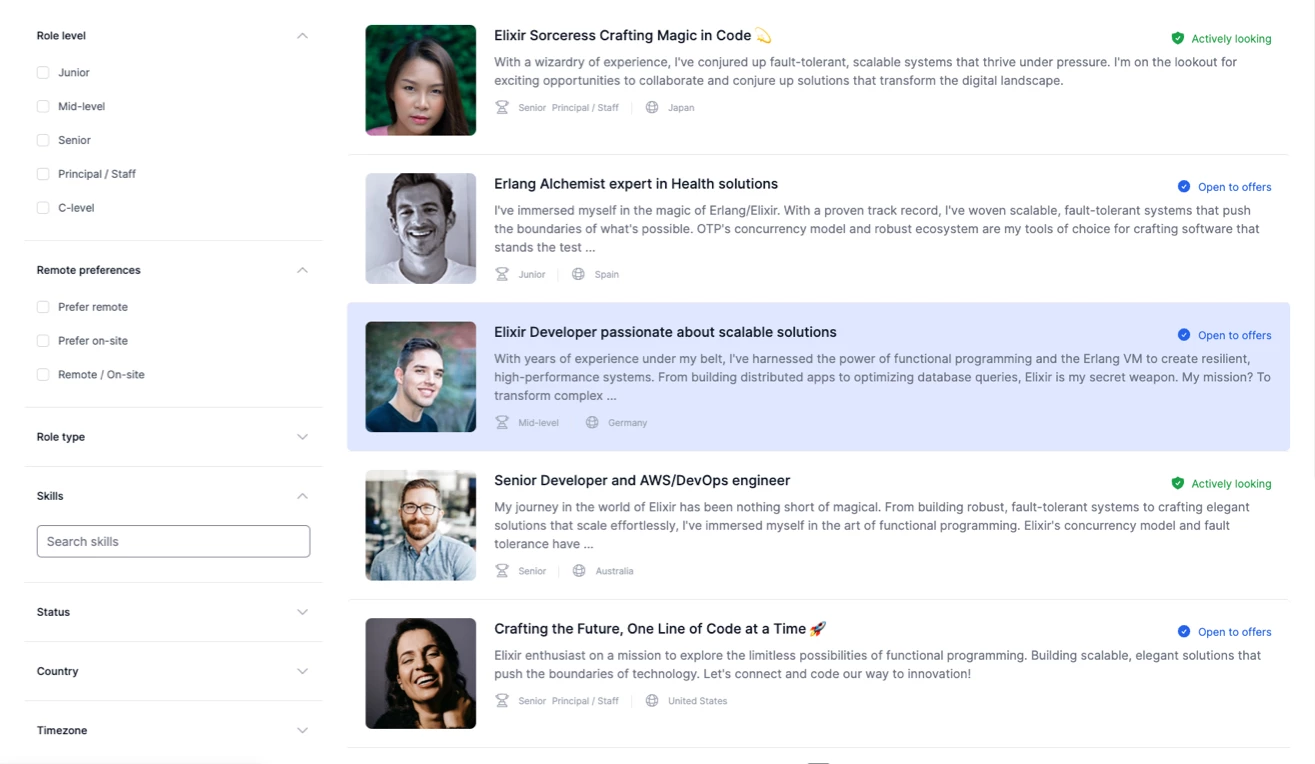 Start finding Elixir developers
Start browsing our Elixir developers database for free. Upgrade to a business account to see more detailed information or start a conversation.
Frequently asked questions
If you can't find the answer you're looking for in this section, please don't hesitate to contact us by email [email protected].
Does ElixirDevs cost anything for developers?

ElixirDevs is always free for developers. Creating a profile is quick and easy.

So what is the subscription for?

Subscriptions are aimed at companies that want to use ElixirDevs to look for and reach out to developers. It allows them to access more detailed information about candidates.

Can I cancel my subscription at any time?

Yes. You can cancel your subscription from the Billing link in your company dashboard. You will lose access to all paid features at the end of your billing period.

I'm looking for developers specialized in technologies other than Elixir, will I find them here?

We are a community focused on Elixir. You may find developers that have experience in other languages, but you should expect candidates to want to work in Elixir in this community.
Ready to start your next adventure?
Create your developer profile for free on ElixirDevs today to find your next Elixir adventure.